THE PROGRESS OF THE PROJECT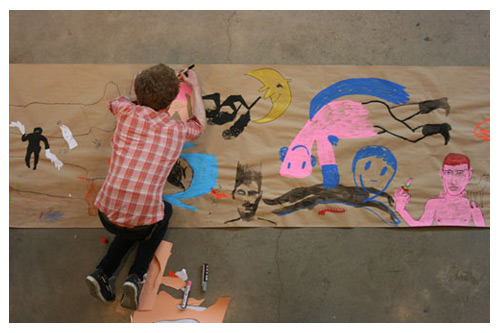 From Sarah magazine collective:
Dear artists, friends and family, we'd love to take some time to thank everyone involved in our project for the effort they've put into the Sarah project with us... It was a major succes and we're extremely proud of every euro we've raised! In attachment we're sending you some pictures of the exhibitions we organised for Sarah to accompany the succesful eBay auction of last month.
Also, here comes a little overview of what exactly we've achieved:

Sarah Magazine
We printed 1000 magazines in December of which we:
- donated 100 to the contributing artists;
- sold 600 through Godfried, the magic man;
- sold 200 over the internet, during events and in shops (thank you No New Enemies, Copyright and Mekanik Strip!);
- are left with 138 for sale, so if anyone's still interested, you know where to find us.

So 800 books were sold at 10 euros a piece which makes 8000 euros, minus costs for binding the book and mailing them off to the artists:
About 7000 euros raised.

Sarah Auction
All of the works were donated by artists from all over the world. In itself, this is a major accomplishment and we can't thank everyone enough for their generosity.
- 80 works donated tot the auction;
- 2 exhibitions organized in Antwerp and Brussels in May (thank you Winkelhaak, Actionfields and A St. Médard!);
- art materials for live painting sessions sponsored (thank you Montana and Levis!)

eBay and Paypal took a percentage off all the sales (400 euros), but we still managed to make a lot of money during one of the most exciting internet auctions that we've ever witnessed. Substracting the shipping costs (200 euros) that we forgot to add properly:
About 3500 euros raised.

Total raised: 10.500 euros.
And of course there were many more initiatives among which a splendid stand-up comedy night organized by Alex Agnew and a lot of generous donations from private and corporate sources, which made it possible for Sarah to get her second cochlear implant on April 3! Hoorray! Our goal of raising 25.000 euros has been achieved, and the money still coming in will go to Sarah's revalidation sessions, paid from the bank account that was set up for "Sarah's Dream", a non-profit organisation that was started especially to give Sarah her second operation.

At the bottom of this mail, you can also find a letter Sarah wrote to us and to you, to all of us, to make sure we all know how happy she is that she's finally hearing properly, for the first time in her life!

Let us know if you have any more questions, requests, cheers, remarks, pictures, orders, love, patience or happiness to share, we're looking forward to hearing from you and wish you an amazing summer! Without all of you, this would never have been possible.

A message from Sarah:
Hi everybody!
I would like to take a moment to thank you all, after all that happened to support "Sarah's Dream".
After getting my first cochlear implant, which was a success, a second implant soon became a dream indeed, a way to improve my hearing even further.
I knew very well that it wouldn't be easy, if at all possible, to raise the money needed.
So what can I say other than that I'm incredibly grateful - it's a joy to know so much solidarity exists!
Because yes, our goal of raising 25.000 euros was reached, and all of this because of your generous contributions. Without you all, we wouldn't have succeeded!
My dream became reality last April 3rd.
The operation went smoothly, and the surgeon was very pleased with the results.
One month later the exterior part was fitted, and for the first time in 23 years I could hear something with my left ear.
It was truly an emotional moment, and I would like to share that moment with you.
At the moment I'm going through revalidation to train my hearing, and all is going well.
I'm taking giant steps in speech comprehension without lipreading.
Now, that's just a start: training is going to take another year - but my motivation has never been bigger, thanks to your support.
So a big kiss to all of you!
I would like to give an extra 'thank you' to Eva and my sister Babs for putting together the whole "Sarah Magazine" action. And to Godfried and my mum for the other actions that were organised for "Sarah's Dream".
Thank you all for your tremendous efforts.
I love you all!
Sarah